Cheapest & free alternatives to Sky TV, Virgin, BT Vision, and Talk Talk. Top best Sky TV, BT Vision and Virgin Media TV alternative. – Sky is not the only option for entertainment. Alternatives to Sky TV & Virgin are available for free and top notch paid one also. Once there was a choice of 4-5 channels. These channels were often poor quality and sometimes contained ghosting. Sky digital allowed you to enhance your TV reception and get more channels. You could sometimes get a free satellite dish installation when you sign up for Sky digital as fresh customer. This was often more beneficial than fixing a broken TV aerial. The downside was that you couldn't receive TV for free, except for the UK TV license cost.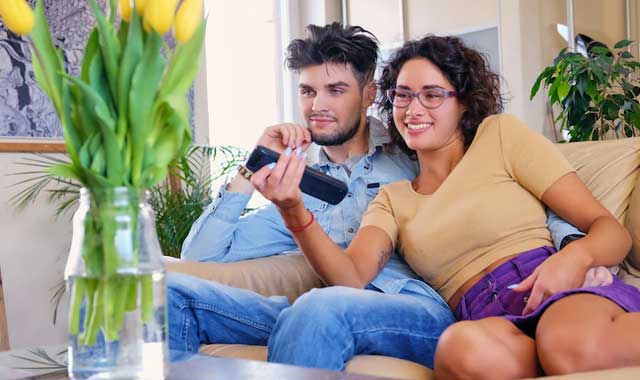 Thankfully, these days are gone. There are many options now. Some services you have to pay for and some you don't. They can be received via a TV aerial or satellite. Sky doesn't have monopoly on movies and sports, but they do have access to BT Vision and Netflix. This article is for people who want to switch Sky TV or Switch Virgin Media or BT TV but don't know where to start.
It is important to note that TV licenses are required for all types of television in the UK. A TV license is necessary, even if you stream TV via the internet.
Note: It is important to note that TV licenses are required for all types of television in the UK. A TV license is necessary, even if you stream TV via the internet.
Sky TV Alternatives – Sky TV is Not the Only Option
I have separated the options below into two different categories.The best alternatives covers the top notch services while on the other side free alternatives to Sky TV try to offer some cheap options.
Best & Cheap Alternatives to Virgin Media and Sky TV
TalkTalk TV
Cost: Starting at £25.95/Month
TalkTalk TV is much like to BT Vision in appearance. Both services use the renowned platform YouView, which makes for a great user experience. TalkTalk TV requires a connection with a TV aerial to receive live TV. But it requires an internet connection for subscription channels and on-demand stream. TalkTalk TV boxes cannot connect via WIFI, therefore you may need an ethernet cable.
Now TV
Cost: Starting at £7.99/Month
Sky offers Now TV, an internet-operated service. You can access the most services via Now TV. This includes both Sky Sports and movies. You can get Now TV in many different ways. Either on equipment such as the Xbox, or you can also setup your own set top box with WIFI connectivity. There are two options for purchasing Now TV. You can either sign up for a monthly rolling payment that is a monthly contract, or you can purchase passes for a specific time period, such as a week, month, or day. This will allow you to use the pay-as-you go feature. This is great for those who only need to view a specific event such as a Sports tournament, but don't like to go with a monthly subscription. This is what I do when I see the darts each year. I don't want to pay for Sky TV.
Now TV has one drawback. There are no live BBC, ITV or Channel 4/ 5 streams, so you cannot view main terrestrial TV live. You can buy a set top box from Now TV with TV aerial input. This will allow you to combine both Now TV and Freeview. Then you can enjoy live terrestrial TV.
BT Vision
Cost: From £6-£31/Month.
BT Vision is equal to Sky TV. Many people who quit Sky usually, subscribe BT Vision. It is important to note that BT Vision is transmitted via aerial. Unfortunately, sales reps do not immediately notice this. Before you switch to BT Vision, make sure you have a working TV aerial. One should consider cost of TV aerial if you don't have one.
BT Vision will only work if you connect it to a broadband internet line. It offers both conventional Freeview received via a TV aerial and online streaming services like subscription sports and movies, as well as on-demand content. BT Vision now makes use of the Youview platform to bring together all the services. It's worth mentioning that I haven't found a BT Vision set-top box which is compatible with WIFI.
Netflix
Cost: Starting at £5.99-£13.99/Month
Netflix has a lot of great original and old TV shows. There are also award-winning films that show up here within weeks after screenings. If you only have one option, it's my favorite because there's usually anything to catch. The price starts at £5.99. However, £9.99 plan is best seller. Netflix offer 1080p and allows two people to watch simultaneously on separate devices. The top tier plan costs £13.99 allows four simultaneous accounts and upgrades to 4K where possible. Sometimes there are discounts and deals.
ChromeCast
Cost: Starting at £30/Month
The Chromecast, Google's first streaming device, costs £30. It simply sits into HDMI port of your TV. It lets you stream your favorite programs from smartphone, computer or tablet, to TV. The remote is not available with this option. However, it can be controlled via the casting platform.
Amazon FireStick Lite
Cost: Starting at £19.99/Month
FireStick is Amazon's cheapest device. It is hidden behind your TV and Alexa interface controls HD streaming and voice. It does not have volume or TV controls, but the price is lower.It will cost you £19.99 and is best option under £30 essential streaming device.
Amazon Prime Video
Cost: Starting at £5.99-£7.99/Month
You're likely to have this if you are an Amazon frequent shopper. The annual £79 price is slightly lower than the standard £7.99 per month price. You can also get a video-only Amazon Prime subscription for just £5.99 per month if you do not need the additional Prime® services such as next day delivery. New customers get a 30-day trial free of charge. You'll find plenty of movies and TV shows here, so there's no reason to stop looking.
Apple TV +
Cost: Starting at £4.99/Month
Apple's streaming service only offers original and new TV shows. It costs £4.99 per month. Despite the presence of many big names, there hasn't been any essential viewing content on there so far.
Read More: Investing in Buy-to-Let Property to Earn Livelihood
5 Free Alternatives to Sky TV and Virgin Media
The following TV providers are free to use at the time of their creating this article. If you're unsure about which service is best for you, this will be a great way to help.
Freeview
The UK's main TV provider. With the rise of TV aerials, the UK is a bit more progressive than other countries. Most of UK households have Freeview access in their homes. All you need is a compatible TV aerial along with a set top box to start receiving Freeview . It will be difficult to find compatible digital TV's with Freeview, so you probably have the right equipment in your home. You can purchase a cheap set top box from a supermarket if you already have a Freeview-compatible TV.
Youview
TalkTalk TV and BT Vision both use Youview to deliver their TV services. However, you don't need to buy Youview to enjoy its benefits. Although you won't be able to get BT Vision or TalkTalk TV subscription-based programs like onDemand, however, you can still access your live TV. You can scroll back 7-days to view missed programmes using the same TV. You can also enjoy this by accessing individual apps like BBC iPlayer & ITV Hub however, this makes it much simpler. Youview was originally delivered to your home via a set-top box, which often had an internal hard drive for recordings. However, digital TV's are increasingly incorporating this feature.
Freeview Play
Freeview Play, Freeview's newest offering, combines traditional Freeview services transmitted via TV aerial with on-demand services via the broadband. It requires a different box. This allows you to record four programs at once and then watch another five. This eliminates the problem of many great TV programs being broadcast simultaneously on prime-time television. Many times I have been frustrated by the inability to watch one program at a time, then several others. Freeview Play is a great way to get around the all-in-one set top box. Many of these programmes can be viewed via the Freeview Play. However, if you start with recording programmes, it skip the ads, so you can watch the programme first without interuption.
Freesat
Freesat is a kind of Freeview satellite. Many of the stations are identical, but on different position. Some channels are not available on Freesat. Dave is one example. However, Freesat has more channels. All that's required to receive Freesat is a small, discreet satellite dish placed on your property. The signals are transmitted via satellites, resulting in almost 100% coverage. This makes it an ideal option for people who live in areas with poor Freeview signal. If you're quitting Sky Q for Freesat, you will need to modify the LNB of your satellite dish.
FreeTime
You will notice the recurring theme of Freeview Play and Youview as being both offshoots. Freetime is satellite TV's equivalent just like Freesat. Your traditional TV is delivered directly to you by satellite dish. While on the other side catch-up services needs internet. Youview scroll back equivalent feature also available on Freetime. You can use the EPG to scroll back and see which program you missed. Although it isn't as user-friendly as Youview's, but it works.