Pensionbee vs Nutmeg 2022: Looking for an easy and affordable way to manage your retirement savings? Pensionbee or Nutmeg may be the perfect solution for you. With Pensionbee, you can easily set up an individual pension plan in just a few clicks. Their intuitive online platform makes it simple to view and manage your investments, and their low fees help you keep more of your money.
Nutmeg, on the other hand, offers a more hands-off approach to Pension planning. They will create a personalized portfolio for you based on your investment goals and risk tolerance, and then manage it for you over time. While they charge slightly higher fees than Pensionbee, their service may be worth it for those who prefer to leave their pension investments in the hands of professionals.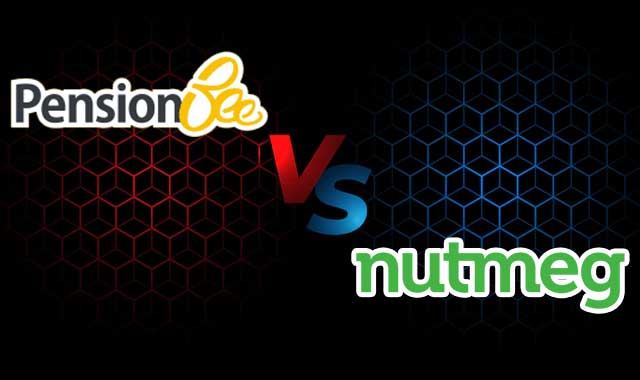 So which pension provider is right for you? It depends on your personal preferences and investment goals. But whether you choose Pensionbee or Nutmeg, you can be sure that you are making the best use of your retirement savings.
Pensionbee vs Nutmeg 2022 Review
What is PensionBee? An Introduction
PensionBee is a online platform started in 2014 in UK, it aims to makes it easy to manage your retirement savings. With just a few clicks, you can set up an individual pension plan and take control of your investments. As it is a consolidation engine for pension planners so, its quite easy to keep track on your public or private pension. Their intuitive platform makes it easy to track and adjust your investments based on your goals and risk tolerance, while their low fees help you keep more of your money.
PensionBee can combine money purchase plans from previous employers or personal pensions, and convert them into a cheap pension plan handled by a third-party investment firm (BlackRock, HSBC, and more). Despite the fact that there are many new pension providers, PensionBee's desire to champion the consumer is at the heart of their business. It has resulted in attempts by Parliament to make it easier for consumers to change retirement plans.
There's no obstacle for you from combining your pension plans via PensionBee into a low-cost pension and transferring elsewhere later. You don't have to pay anything for combining your pension nor do you have to pay any exit fees with PensionBee.
How PensionBee Works?
Pensionbee will require you to provide certain personal data regarding your present or previous pension. No matter your pension is public or private, and even your pensions are from a number of providers. As we have discussed above Pensionbee works with a range of well-known names in pension services. PensionBee, also provides a pension check. This allows you to search a national database for information regarding your pensions history. This is a useful service that will appeal to anybody who doesn't have historical pension documents.
After you're ready to go, pick any one of the seven options available. These plans are designed to let you invest in a variety of firms, stocks and shares based on where you want your funds to end up. According to most people, the "tailored" approach is the most popular choice, although customizable portfolios are also available. There are total 9 different options available namley; PensionBee Tracker, Match, Tailored, Fossil Fuel Free, Future World, Shariah, 4 Plus, Preserve, and Pre-Annuity.
PensionBee Fees
The minimum annual charge for PensionBee is 0.50%, with a maximum of 0.95%. It decreases the cost of all investments valued at more than £100,000 by half. Like if you are investing £170,000 in the 4Plus plan, system will charge 0.50% on the first £100k and then 0.25% on the above amount i.e. £70,000.
If you click through to the PensionBee charges page* you can check the fees for each plan and they are very competitively priced, especially when compared to other pension providers such as Hargreaves Lansdown* and Nutmeg.
Moreover, a withdrawal fee applicable if you withdraw within 12 months after sign-up. Withdrawl fee is flat £480. Hence, staying with the service for long may be advantageous and also get your money's worth.
Is Transferring to PensionBee Worth It?
Pensionbee allows to transfer the majority of pension funds. However, you may not transfer in certain situations. This is because certain pensions are not legally eligible for transfers. This especially applies to government pensions for army or police officers. If you are unsure about this, it's worth asking an accountant.
You may also move your 'defined benefit' pension. Although PensionBee recommends to consult a professional before transferring. However, if the transfer is big i.e. £30,000 then there it is legally binding to consult a professional before transferring a pension.
Is PensionBee Right Option for Me?
If you want to consolidate or clear out your current pension pots, and you don't have a final salary pension. Then PensionBee can be an excellent choice. This is especially true if you prefer low costs platform rather then investment options.
PensionBee use "simpler annual statements," and it is first in pension market to that. Basically SAS is a government-initiated effort to improve transparency.
PensionBee Pros and Cons
Pros
Clean and easy to use Mobile App
Supports majority of pension transfer
No exit fees after 12-months
Low fees and charge.
Cons
Fewer investment options available for more experienced investors
No financial advice is available from PensionBee.
There is a withdrawl fee if you pull within a year.
What is Nutmeg
Nutmeg is a UK-based investment platform that offers users the ability to invest in a wide range of assets, including stocks, bonds, and ETFs. Nutmeg also offers human support and guidance in addition to its Robo-investing technology. The yearly fee for using Nutmeg's services is 0.25 percent per year. You can invest in both ISAs and pension schemes if you go with Nutmeg.
I have some personal experience with money management. When it comes to investing, there may be a lot of expenses involved, which means that some novices could be dissuaded by the trouble and expense. This might be the reason that Nutmeg focuses on keeping costs lower.
If you are looking for a more hands-off approach to pension planning, you may want to consider Nutmeg instead. This online provider will create a personalized investment portfolio for you based on your goals and risk tolerance, and then manage it for you over time. While they charge slightly higher fees than PensionBee, their professional service may be worth it for those who prefer to leave their pension investments in the hands of experts.
How Nutmeg Works?
Before you can start investing, you have to sign-up. To create a portfolio, any newcomers who are concerned about getting "too involved" should simply answer a few brief questions. Nutmeg's professionals will then use this information to develop a profile, on the basis of your views on investments, risk, and some other factors.
This is a fantastic approach since it guarantees customization of whatever investment portfolio you choose. It means that one can always enjoy a custom-made portfolio and investment strategy. What makes Nutmeg's default approach interesting is the diversification technique used in investment.
Nutmeg Fees & Pricing
There are several different types of nutmeg fees that you will typically encounter when investing through this platform. These include:
– Trading fees: This refers to the cost charged each time you make an investment or withdrawal from your account. Typically, trading fees vary based on the size of your portfolio and can range anywhere from 0.2% to 0.3%.
– Account management fees: In addition to trading fees, Nutmeg also charges an account management fee that is based on the size of your portfolio. This fee typically ranges from 0.35% to 0.75% and is charged annually.
– Other fees: There may be other small fees associated with certain types of investments, such as foreign exchange fees for international transactions or exit fees for terminating an account early. It's important to carefully review all nutmeg pricing information before investing so that you can choose the plan that best fits your needs and budget.
Overall, nutmeg knows how important transparency and fair pricing are when it comes to investing, which is why they take great care in clearly outlining their various nutmeg fees and pricing structure on their website.
Nutmeg Pros and Cons
If you're thinking of investing online, nutmeg is definitely worth considering. Here's why:
Pros
Nutmeg is one of the most established online investment platforms, having been founded in 2012. This means that they have a lot of experience and are constantly improving their service.
They offer a wide range of investment products, from stocks and shares to more risky options. This means that you can find an investment strategy that suits your risk tolerance and goals.
Nutmeg has very low fees, starting at 0.3% per year. This makes them much cheaper than many other traditional financial advisers or stockbrokers.
They offer a free initial assessment so you can see whether your current investments are a good fit for their service. If they aren't, you can move them over to nutmeg with ease.
Cons
Since nutmeg is completely online, you're relying on their technology and customer service, which may not always be up to par. If something goes wrong with your account or you can't get the help you need, it can be frustrating.
Nutmeg requires a relatively large initial investment in order to start using its services. This might be too much for some people who are just starting out with investing or don't have much money to spare.
Overall, nutmeg has many advantages that make it an attractive option for those looking to invest online. Whether you're building your wealth over time or planning
Is It Safe to Invest With PensionBee or Nutmeg?
When it comes to safety, both PensionBee and Nutmeg are large, well-established financial firms with a good reputation. Both companies are regulated by the Financial Services Compensation Scheme (FSCS). Therefore, in case of bankruptcy you will surelly get your investment back up to a certail limit. i.e. £85,000.
Conclusion
So, which is the best online pension provider for you – pensionbee or nutmeg? Ultimately, it depends on your specific needs and what you are looking for from a retirement fund. Both providers offer a wide range of features and benefits, so they are both worth considering. However, we hope that this article has helped to highlight some of the key differences between these two providers, and that you are now in a better position to make a reasoned decision about which option is best for you.
Whether you choose PensionBee or Nutmeg, you can be sure that you are making the most of your retirement savings. So what are you waiting for? Sign up today and start planning for a secure financial future!