Habito vs London & Country: Which is the best mortgage company? Pricing, fees, pros and cons, and significant differences in both Habito and L&C. Recently, there's been a major shift towards internet mortgage brokers. While several offline firms have transitioned to online mortgage administration, only a few exist solely to provide online assistance. Over the years, numerous financial assistance options have emerged online. You may even ask an automated financial advisor to handle your investments for you now. This time, we'll be focusing on mortgage brokers, though.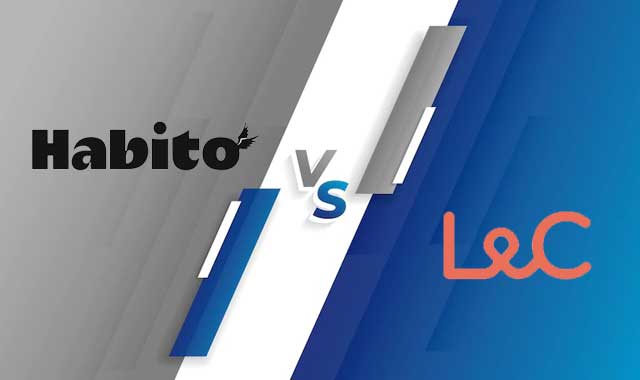 Habito and L&C differ in many ways. L&C (London & Country) is a business that has been operating for quite sometime before the term "online mortgage broking" was even coined. Habito, on the other hand, has emerged as a top name in mortgage brokering online.
In this blog post, I'll go over the online mortgage brokers in detail and give you a clear suggestion of where to go. Are you considering switching your mortgage over to the internet? Discover how Habito and L&C compare before making your decision.
Online Mortgage Broker vs Traditional Mortgage Broker – Differences
Before selecting anyone, let's take a deep dive and understand the differences between online and traditional mortgage brokers.
Traditional mortgage brokers have previously been bank-based and operated on the high street. Many individuals continue to rely on traditional mortgage broking due to security concerns, although many feel it is time-consuming and ineffective. Since Habito has just emerged as a prominent name in mortgage broking in recent years, this is an astounding transformation.
However, several services are already going out online. Buying a mortgage over the internet seems to save time and is also effective compared to dealing with a bank in person. Furthermore, internet businesses are currently leading the charge in developing cutting-edge technology. With online brokers, homeowners may get more accurate, honest quotations and lower prices depending on their budgets.
That is why when it comes to comparing traditional vs online mortgages, many consumers prefer to go online. While having the security of a bank manager may be appealing, on the other side, a web-based engine allows you to obtain far more options. As I previously stated, we will compare two of the most well-known names – Habito and L&C.
Habito vs L&C – let's Move to Deep Dive.
What is Habito?
Habito provides an entirely online and free mortgage broker service to its consumers. The goal of the service is to take some of the burdens and pressure off people looking at various offers by considering tens of thousands of different mortgage alternatives.
Mortgage broking has long been a time-consuming procedure. While modern technology now allows much of it to be done more quickly than in previous years, traditional brokerages have certain limitations. Habito is unique in that it combines a sophisticated algorithm and an online platform that claims to narrow down home loan alternatives based simply on a few profile data.
The majority of individuals are likely to find this service helpful and convenient. There may be one or two mortgage borrowers who trust offline brokers; however, on the whole, the majority of customers will find it quite simple. Many people are hesitant to entrust their lives and money to a machine. I can see why they would be afraid in certain situations – but if Habito is as precise and easy to use as it claims, why would anybody refuse it?
How Habito Works?
Habito will need a few personal and financial documents from you before you can begin, so make sure to have the rest of the required paperwork on hand. Moreover, Habito will ask one of their human workers to review your application, process the data, and find suitable options. With this approach, people concerned about any significant computer mistake may become easy knowing it won't happen.
Habito's mortgage specialists will be there for you at all times of the day, so if you want to update any of the information, you can easily do it. Moreover, If you feel that the offers available do not match your budget. You may ask an expert to get particular discounts suited to your demands and budget.
Habito will work to find you a mortgage that meets your requirements. It may take anything from one to two months, so you'll have to wait a while before getting all of your documents completed online. They can tell you your eligibility requirements if you want to learn more about a particular loan before applying. You'll be given an estimate from one of their many lenders.
Is it Safe to Go With Habito?
Habito is 100 percent legal, so you won't have to worry about giving personal or financial information to strangers. The Financial Conduct Authority has approved the website and did a comprehensive examination. As a result, your data will be secure with no third parties sharing. But along the way, allow your consent carefully which information you want to handle by Habito or which you don't want.
How Much Time Does Habito Take to Approve?
Habito provides fast results, which will be appreciated by anybody who requires or wants immediate and accurate information and data. Conversely, a mortgage ultimately takes a few weeks to settle and finalize with the lender.
Some consumers may find this frightening because they feel their loan application might get lost in the shuffle. However, like many other services traditional mortgage brokers offer, locating and agreeing on the best mortgage terms may be time-consuming. You can use the service 24/7 to compare the available options.
What are Habito's Fees or Pricing?
It is when things start to get interesting: Habito receives no money from being an online mortgage broker. They are paid by commission, which means they are dedicated to assisting you in locating the best possible deal. Consider them a referral which will get compensated once a transaction is completed.
Habito – Pros and Cons
Pros
Free to use. Earn through commission on the final transaction.
At any one moment, Habito compares over 20,000 different offers from around 90 lenders.
They handle the paperwork for you since the company is almost entirely online.
Cons
The app process may appear complex at first, and you don't appear to get much help right away.
Habito does not have years of experience in the market to support itself like L&C.
No assurance that more complex issues won't puzzle the system if you employ algorithms.
Depending on the complexity of the application, you may have to wait for your mortgage to be processed.
Habito vs London & Country Mortgage
Introduction to L&C?
L&C Mortgage Services is a broker that has been operating since 1987. As a result, Habito does not have as much time to build a relationship with customers as L&C does.
L&C Mortgage is a well-known provider that has worked with big names like KPMG and the Royal Bank of Scotland. It's also popular because it has a lot of expertise working with well-known firms and services that offer mortgages, which is why it's so popular. L&C, like Habito, provides complete customer service support. You may also interact with them whenever you like, as long as it's reasonably.
For those unfamiliar with L&C, it is a company that has spent the last 30 years building trusted relationships with local governments and institutions. It's something of an anomaly when compared to a completely internet-based firm (Habito). From a purely offline (L&C) to an entirely online service.
They want to help you find and purchase a home and remortgage if necessary. They will, however, provide you with hundreds of options for house acquisition and remortgaging and assistance in completing some of the more challenging paperwork along the way. For assistance, you may contact them seven days a week.
How Does L&C Work?
Yes, you must provide certain information when registering with L&C, much like Habito does. For example, you must accurately describe your life circumstances, employment situation, and any other important information from a financial perspective.
Input your information or contact an L&C representative to get started. You'll be able to keep track of your application online as offers emerge, and you'll have the option to do so. Another advantage of L&C is that you'll have your account manager, someone who will assist you with any questions or issues you may have. That's a welcome addition.
Is it Safe to Go With L&C Mortgage?
The L&C is, like Habito, a fully secure and regulated exchange. The Financial Conduct Authority (FCA) approved the broker's name, which implies that anyone concerned about how they will manage your financial data can rest easy.
The L&C customer service experience is straightforward since it's designed for customers to comprehend. As a result, it has some qualities of a standard broking approach with an online platform. It doesn't have sophisticated algorithms, just like Habito, but they do have the benefit of human interaction, which many people will trust and utilize.
How much time does L&C Take to Approve?
Much like Habito, a mortgage application will take as long as it usually takes. On the other hand, L&C claims that once a deal reaches the final stage, processing time may vary from 40 to 90 days. But this varies from person to person. That appears to compete favourably with L&C. Furthermore, their mortgage offer finding service is speedy, keeping up with rivals like Habito, who are trying to blaze a trail in this field.
London&Country's high-speed comparison service is comparable to, if not quicker, those of other lenders. When comparing mortgage rates, they appear to be providing a fair degree of trust.
Anything you commit with L&C is "In Principle." Always double-check any terms or conditions before agreeing, as L&C is straightforward and honest. It's good, but don't forget to use common sense when reading small prints.
What is L&C's Fee or Pricing?
L&C is another utterly free mortgage comparison service. Like Habito, they'll get a fee on the final transaction in terms of commissions. The fact that this service, especially given the customer attention it receives, can be provided for free may seem peculiar.
L&C – Pros and Cons
Pros
They've been in the mortgage broking business since 1987, so they're well-informed.
Compare numerous lenders online, with the benefit that many already have a long-standing connection with L&C.
The company is compensated based on a commission from lenders similar to Habito.
Compared to the competition, L&C appears to be extremely quick regarding both the mortgage hunting procedure and financial settlement services.
You'll be connected with a particular person responsible for your account, which will help you with any unique requirements.
Cons
L&C doesn't employ algorithms to discover its deals as Habito does. That may be seen either way.
It's a service that started as an offline business and has evolved into an online one. It doesn't have the exact origins of Habito.
It isn't for everyone, especially those looking for a quick and electronic buying method.
Habito vs L&C: Conclusion
We hope this article has helped highlight the differences between Habito and L&C. Both companies offer excellent services. Still, some key distinctions may be vital for you to consider when making your decision.
Habito's age appears to be little compared to L&C's previous mortgage brokering experience. Furthermore, L&C provides a broader range of services and performs better at dealing with complex requests since they have direct personal contact.
However, Habito has several advantages. These are two of the most well-known and free services on the market that can help you narrow your search for a mortgage by providing you with an extensive range of thousands of loans. At the end of the day, it's up to you to decide which company is best suited to meet your specific needs.