You may be wondering: What's the difference between Vanguard and Nutmeg accounts? In this article, we'll explore Nutmeg accounts and Vanguard life strategy to see which is better. After all, you're investing your money, right? But what is the difference between Nutmeg and Vanguard, and which one's better for your retirement? Here's a quick look at both.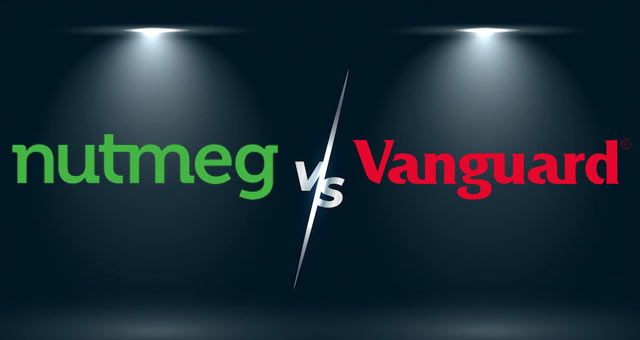 Nutmeg Vs Vanguard
What is Nutmeg
When it comes to choosing a robo-advisor, Nutmeg is a good choice. The company's fees are low compared to the average for US robo-advisors. The fees charged by Nutmeg are listed on the official portal, so you can see exactly how much you'll be charged. You didn't have to worry about any unexpected costs.
The company's on-boarding process is easy. Users fill out a short questionnaire about their risk tolerance, goals and initial deposit amount. Then, they choose an investment style from among three tiers: fully-managed, fixed allocation or socially responsible. Before choosing a tier, they should review all the fine print. Generally, investors should choose the style that suits them best. Nutmeg charges half a percent of their pot annually.
Nutmeg has many advantages. Its robo-advisor runs personal pensions, Stocks and Shares ISA and Junior ISA. You can also open a general investment account with Nutmeg, which is great for maximizing your annual tax-free contribution. Both companies offer a comprehensive suite of services and are easy to use.
Introduction to VanGuard Life Strategy
Many investors want to invest in an overall diversified portfolio that doesn't involve re-balancing or additional purchases. Vanguard's LifeStrategy Funds are a simple and inexpensive way to build a portfolio. These funds hold fixed levels of equities based on the component shares of the fund's portfolio. You can easily tailor your portfolio to your goals and risk tolerance by selecting the components that best fit your objectives.
Vanguard's LifeStrategy fund range has been popular with UK investors since 2011. The funds provide low-cost, passive index trackers with 20% equity exposure. The funds increase in value each year and have an annual charge of just 0.22%. To learn more about the fund's investment strategy, we spoke to Mark Fitzgerald, head of product specialization at Vanguard, and Mohneet Dhir, a multi-asset product specialist.
Vanguard LifeStrategy funds are mutual funds structured as a portfolio of funds, each of which tracks the performance of a group of index funds. The Vanguard Total Stock Market Index Fund (VTI) has the highest percentage of stock investments, with only a small proportion of the fund invested in bonds. These funds are ideal for investors who want to maximize their returns while minimizing their risks. You can open a Vanguard brokerage account for free using the links below.
Read more: VanGuard vs InvestEngine
Nutmeg Vs VanGuard Accounts
Nutmeg Accounts
Both Nutmeg and Vanguard offer a similar level of account management, but both services do have some key differences. For example, Nutmeg is an all-in-one portfolio solution, while Vanguard offers more specialized packages, such as its LifeStrategy funds. Both services offer a range of flexible options, including Nutmeg's socially responsible, fixed allocation, and smart alpha portfolios. The Nutmeg platform offers a no-fee six-month trial, and Vanguard LifeStrategy charges a one-time monthly fee.
LifeStrategy offer investment products that can be quite complicated. Nutmeg, on the other hand, offers an all-in-one platform that allows you to manage your money and invest in a number of ETFs at once. Both services charge a small one-time setup fee and ongoing charges, but Vanguard LifeStrateg has lower fees. For example, Fixed Allocation fees are only 0.45% and 0.75%, while the Fully Managed account requires you to pay a 0.75% fund fee.
Besides having a fee structure that is easy to understand, Nutmeg also offers several portfolio options. You can choose from 10 risk-rated portfolios, as well as an industry or region-specific ETFs. Nutmeg's Fixed Allocation portfolios are low-risk, and offer limited management intervention. Those seeking full control of their investments should consider Vanguard's services. But if you don't have time to research tracker funds, Nutmeg is a good option. Additionally, Nutmeg provides an extensive library of blog posts, calculators, and other resources to help you make wise choices about how to invest.
Vanguard Accounts
When comparing Vanguard Accounts and Nutmeg accounts, there are a number of differences between the two platforms. Vanguard offers several investment options, including its LifeStrategy product. This product has five different types of fund portfolios, split in various ways based on risk attitude and time horizon. Nutmeg accounts offer a a bit higher ongoing charge fee, while Vanguard accounts come with lower charges.
Nutmeg is an alternative to Vanguard. Their platform is web-based, while both also offers mobile apps. If you're new to investing, Nutmeg may be the better choice for you. They both offer the same tools and advice, but Nutmeg doesn't require you to know much about the investments themselves. The latter offers free advice, which Vanguard lacks.
While Vanguard has done better historically, Nutmeg has the advantage of being simpler and more user-friendly. The Vanguard global all-cap fund has an average annual return of 10.0% since 2011. In comparison, Nutmeg has failed to achieve that level, and you may be better off using Vanguard. However, the Vanguard global all-cap fund is a good choice for many people, and they both offer diversification, low costs, and the potential to hold their assets through market fluctuations.
Vanguard vs Nutmeg Investment Options
Nutmeg Investment options
When you're looking for the best mutual fund provider for your money, you might be wondering whether Nutmeg Investment options or Vanguard are better. Whether or not you'd like to have full control over your investments, the fee structure with Nutmeg is straightforward and affordable. The Nutmeg fee structure is transparent and stated on the main feed page, so you'll know exactly how much to expect.
Both Vanguard and Nutmeg offer different portfolio options. While Vanguard offers five different individualized packages, Nutmeg offers just one. Their LifeStrategy fund option allows investors to choose between fixed allocations, socially responsible portfolios, and smart alpha portfolios. Some of Vanguard plans are more expensive than Nutmeg, so you should consider the fees across the board.
Nutmeg offers different products under five different heads. The prime categories includes Nutmeg ISA, Lifetime ISA, Nutmeg Pension Account, Junior ISA and General investment account.
Vanguard Investment Options
You can get your retirement savings started with a Vanguard 401(k), or invest in a custodial account, SIMPLE IRA, or 529 plan. Mutual funds are a great way to start your retirement savings and many people keep a healthy mix in their long-term portfolio. While they are riskier than CDs, they offer higher returns. The low costs, wide selection, and service of Vanguard mutual funds make them an ideal choice for people seeking Financial Independence.
Vanguard offers direct financial advisor services for an additional fee, and customers must invest a minimum of $50,000 to get started. The company's online platform does offer free research tools and planning tools, but the amount of flexibility and capabilities available for trade are limited. Additionally, Vanguard does not offer real-time data or advanced analytics, which means that it may not be the best option for active traders. If you are interested in investing in the stock market, Vanguard may be a good option, but it is not a great fit for everyone.
Vanguard also has a lot more account types than its competitors. Some of these include a Solo 401(k) for self-employed individuals, a SIMPLE IRA for small business owners, and 529s for college savings for minors. The only negative of Vanguard is their app, which doesn't quite hit the M1 quality bar. Several Android users complain that it doesn't get as much optimization as other investment apps.
Nutmeg vs Vanguard Benefits
Nutmeg Benefits
There are many benefits to choosing Nutmeg over Vanguard. One of the most notable is that Nutmeg offers pension options, which Vanguard does not. In addition, Nutmeg offers a wide selection of investment packages, including a pension. In addition, the company spreads its money out with a low-risk allocation, which can be beneficial for new investors. Lastly, the company charges low fees, which makes it a good choice for low-cost management.
Another benefit of Nutmeg is that you can manage your money at any time. The company provides you with full access to projections, as well as a clear overview of all activities. Additionally, you can choose which plan suits your needs best. You can even ask Nutmeg to manage your portfolio during sign-up. These are just a few of the benefits of Nutmeg. Make sure to read all the small print and contact a support service if you're unsure about which one to choose.
If you prefer to manage your investments yourself, Nutmeg offers flexible accounts with no commissions or other fees. Customers can also set up recurring deposits and choose their cash levels. Customers can also access free in-house educational materials. If you have a third-party account, you can transfer it to Nutmeg without paying a transfer fee, but keep in mind that you may be charged at the originating brokerage. Moreover, withdrawals of standard account funds are free of charge but may take 3 to 7 business days to reach your destination. However, withdrawals from personal pensions and ISAs may incur mandatory penalties.
Vanguard Benefits
If you're new to the world of investing, the Vanguard benefits may be a blessing in disguise. Rather than requiring you to have a wealth of knowledge about investments, Vanguard asks you a few fact-finding questions and uses risk-profiling to select a suitable portfolio for your needs. The service costs half a percent of your investment pot per year, but it can be extremely beneficial to novice investors.
Vanguard has historically produced higher returns than Nutmeg. Over the past five years, Vanguard has averaged an annual return of 10.0%, more than doubling your money. But these returns are since inception, so they differ. Furthermore, comparing performance over a shorter period of time won't help you judge a mutual fund's future performance. Despite the higher fees and higher risk, the Nutmeg benefits are worth considering.
While the benefits of Vanguard over Nutmeg are largely similar, there are some notable differences. The latter has higher fees than Vanguard, but the former has an easy, transparent pricing structure. Vanguard isn't suitable for those who want to have total control over their investments and need in-depth analytics, but it's great for those who don't have the time to read up on tracker funds or learn how to use a financial calculator. In short its best for investor looking for ETFs, index funds, long-term investments starting from low investment level.