Nutmeg vs Wealthify UK 2022: Which is the better investment: Nutmeg or Wealthify? Both of these platforms have their pros and cons, so how do you decide which is right for you? Both Nutmeg and Wealthify are among the most popular platforms for UK investors.
When it comes to investing, there are a lot of different options out there. In this blog post, we'll break down the key differences between Nutmeg and Wealthify so that you can make an informed decision about which platform is best for your needs. Both platforms offer users the ability to invest in a wide range of assets, including stocks, bonds, and ETFs. So how do you decide between the two options?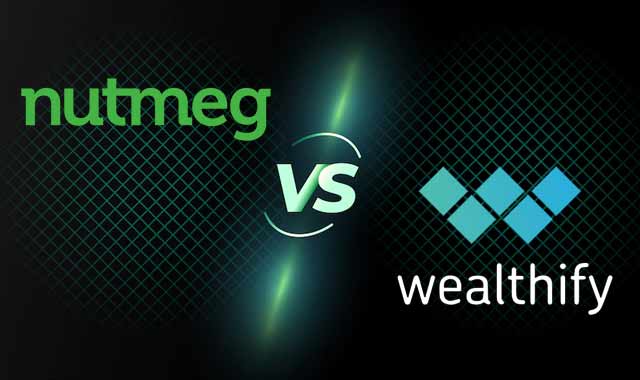 Nutmeg vs Wealthify Fast Forward Summary
Nutmeg's yearly fee is among the lowest in the industry, the annual fee varies with package offering and it is 0.25 percent per year. On the other side, Wealthify's lowest fee charge is as low as 0.4 percent each year. Aviva backs Wealthify, which can be a reassurance for many investors.
Both Nutmeg and Wealthify provide Robo-investing technology, but Nutmeg also offers human support and guidance.
Wealthify is free to sign-up and begin investing, but on the other side, you must invest at least £100 or £500, respectively, depending on the plan you select to start investing with Nutmeg.
You can invest in both ISAs and pension schemes if you go with Nutmeg.
Both Nutmeg and Wealthify are secured by the FSCS, this assures that any money you are going to invest in is secured for up to £85,000.
What is Nutmeg and How it Works?
Nutmeg is a UK-based investment platform that offers users the ability to invest in a wide range of assets, including stocks, bonds, and ETFs. Nutmeg also offers human support and guidance in addition to its Robo-investing technology. The yearly fee for using Nutmeg's services is 0.25 percent per year. You can invest in both ISAs and pension schemes if you go with Nutmeg.
I have some personal experience with money management. When it comes to investing, there may be a lot of expenses involved, which means that some novices could be dissuaded by the trouble and expense. This might be the reason that Nutmeg focuses on keeping costs lower.
With Nutmeg there is an option to either invest in, ISAs pensions, stocks, and more. Unless you opt for the ISA option, which allows you to make a significantly lower initial deposit of £100, you'll need around £500 to start with your investment account.
How Nutmeg Works?
Before you can start investing, you have to sign-up. To create a portfolio, any newcomers who are concerned about getting "too involved" should simply answer a few brief questions. Nutmeg's professionals will then use this information to develop a profile, on the basis of your views on investments, risk, and some other factors.
This is a fantastic approach since it guarantees customization of whatever investment portfolio you choose. It means that one can always enjoy a custom-made portfolio and investment strategy. What makes Nutmeg's default approach interesting is the diversification technique used in investment.
What is Wealthify?
Wealthify is an online investment platform that uses a different approach to investing. It only deals with Robo-investing technology to help users grow their wealth. That's why you can say it's a little bit investing platform different from Nutmeg which also offers expert support. Wealthify is free to sign-up and to begin investing you just need £1.
Wealthify is a great option for anyone looking to invest their money and grow their wealth over time. What makes Wealthify unique is that it uses advanced Robo-investing technology to create customized portfolios for each user based on their preferences and risk profile.
Wealthify enjoys the benefit of being supported by a major financial institution. The company is equipped with a large number of finance specialists and gurus. Moreover, they also have earned inspiring confidence. Aviva take-over Wealtify in recent years. Seasoned investors, see this move quite well and shows confidence in the company. On the other side, there's a good chance also that this move also helps to attract novices as well.
Because it's free to sign up, no barriers or obstacles are preventing you from growing your wealth with Wealthify. Whether you're just starting out in the world of investing or you're an experienced investor looking for a new platform, Wealthify has everything you need to get started and reach your financial goals. So why wait? Sign up with Wealthify today and start growing your
How Wealthify Works
When it comes to signing up for Wealthify, the process is similar to that of Nutmeg. You should expect a series of questions that will ask about your background in investing, what you expect with your investments, and where to invest your investments.
An excellent characteristic of Wealthify's robot investing is an automatic block. This block will prevent you from continuing if it thinks that you will not be able to get benefit/profit for any given investment in the long run. Some other online investments simply let the investor proceed without even any intimation.
You can use Nutmeg to handle your finances at any time of day, week, or even a year once you've set it up. Users have unrestricted access and control over your forecasts, so you can always keep track of what the Nutmeg team is doing.
One may also get a tailor-made experience by selecting a plan that meets your demands. If you want Nutmeg to handle all of your portfolio management, you can request it during the sign-up process. This means they will take over while you are starting with your investments.
Nutmeg vs Wealthify Fees & Charges
Nutmeg Fees
There are several different types of nutmeg fees that you will typically encounter when investing through this platform. These include:
– Trading fees: This refers to the cost charged each time you make an investment or withdrawal from your account. Typically, trading fees vary based on the size of your portfolio and can range anywhere from 0.2% to 0.3%.
– Account management fees: In addition to trading fees, Nutmeg also charges an account management fee that is based on the size of your portfolio. This fee typically ranges from 0.35% to 0.75% and is charged annually.
– Other fees: There may be other small fees associated with certain types of investments, such as foreign exchange fees for international transactions or exit fees for terminating an account early. It's important to carefully review all nutmeg pricing information before investing so that you can choose the plan that best fits your needs and budget.
Overall, nutmeg knows how important transparency and fair pricing are when it comes to investing, which is why they take great care in clearly outlining their various nutmeg fees and pricing structure on their website.
Nutmeg Fees According to Portfolio Type
Charge Type
Fully Managed Portfolio
Smart Alpha
Portfolio
Socially Responsible Portfolio
Fixed Allocation Portfolio
Account Fee
0.75% up to £100k
Then 0.35% beyond
0.75% up to £100k
Then 0.35% beyond
0.75% up to £100k
Then 0.35% beyond
0.45% up to £100k
Then 0.25% beyond
Fund Cost
0.20%
0.23%
0.28%
0.19%
Market Spread
0.07%
0.07%
0.07%
0.07%
Wealthify Fees & Charges
Wealthify charges a small annual fee of 0.6% on the value of your investments. These fees are deducted from your investment pot, so you don't need to worry about them yourself. The investment fee varies with the amount you put in and it ranges from 0.16% to 0.7% depending on the portfolio you choose. Wealthify also offers a free service for those who invest £500.
Nutmeg also has an annual management fee, but this is a little bit higher at 0.75%. However, they do have a tiered structure which means that the fees are lower if you have a larger investment pot. For example, if you invest £10,000 with Nutmeg, you will only be charged £75 in fees per year. When it comes to other charges, Wealthify is pretty good value for money. They don't charge any dealing fees or exit fees, so you can sell your investments without having to pay anything extra.
| | | |
| --- | --- | --- |
| Charge Type | Original Portfolio | Ethical Portfolio |
| Annual Account Fee | 0.60% | 0.60% |
| Investment Cost | 0.16% | 0.70% |
When comparing the two providers, it's clear that Wealthify offers better value for money when it comes to fees and charges. However, it's important to remember that there are many other factors to consider when choosing an investment platform, such as the quality of the investments that you can choose from and the level of customer support available.
Overall, if you are looking for a low-cost investment platform with no hidden charges, then Wealthify is probably the best choice for you. However, if you are after a more bespoke experience and have a larger investment portfolio, then Nutmeg may be a better option. Ultimately, it's important to do your research and find a provider that offers the services that are most important to you.
Nutmeg vs Wealthify Investment Products
Nutmeg and Wealthify are two of the most popular robo-advisors on the market today, offering investors a wide range of low-cost investment products to choose from. But which one is right for you?
In terms of product offerings, Nutmeg has a much more comprehensive lineup than Wealthify, with more specialized funds covering different asset classes – including ETFs and commodities – as well as a wider range of risk levels. This means that if you have specific investment goals or preferences, Nutmeg may be the better option for you. However, both services offer similarly low fees compared to traditional advisors and brokerages, making both an excellent choice if you're looking for simple and affordable investing options.
So which service should you choose? If you're looking for more specialized investment products and a wider range of asset classes to choose from, Nutmeg is the better option. However, if you're simply looking for low-cost and straightforward investing options, Wealthify is a great choice. Whichever service you choose, you can be sure that you're getting a quality product at a competitive price.
The Wealthify strategy is generally to distribute your money as widely and as thinly as possible. If you'd prefer to limit things to one or two specific zones or pots, however, you might find other platforms more suitable.
On the other side, if you let Wealthify handle your portfolio, you must entrust the system and allow it to spread your money across much smaller, varied pots that the software thinks are worth and suits your needs.
Nutmeg is a fully 'robo' investment platform that can work well for many people. The risk associated with this service, however- as opposed to other platforms where you might expect higher rates of return because they are less automated -is somewhat lower due largely in part to its robotic nature which does bring some benefits such as increased safety and security but at the trade-offs too such lackluster returns on investments over time
Is It Safe to Invest With Wealthify or Nutmeg?
When it comes to safety, both Wealthify and Nutmeg are large, well-established financial firms with a good reputation. The Financial Services Compensation Scheme regulates both companies. This means you are eligible for £85,000 in compensation in case of any mishap. Besides that, both companies have extensive experience in the investment world and offer a variety of investment products and services. So, the chances are quite less for anything bad happen, but its good to think from all perspectives.
That said, there is always some risk involved when investing, no matter which company you choose. So before making any decisions, just follow a simple safe-side rule. Only invest money that you can afford to lose, and never more than you can afford to lose. In conclusion, both Wealthify and Nutmeg are safe choices for investors.
Nutmeg Pros and Cons
If you're thinking of investing online, nutmeg is definitely worth considering. Here are a few of the reasons why:
Nutmeg Pros
Nutmeg is one of the most established online investment platforms, having been founded in 2012. This means that they have a lot of experience and are constantly improving their service.
They offer a wide range of investment products, from stocks and shares to more risky options. This means that you can find an investment strategy that suits your risk tolerance and goals.
Nutmeg has very low fees, starting at 0.3% per year. This makes them much cheaper than many other traditional financial advisers or stockbrokers.
They offer a free initial assessment so you can see whether your current investments are a good fit for their service. If they aren't, you can move them over to nutmeg with ease.
Nutmeg Cons
Since nutmeg is completely online, you're relying on their technology and customer service, which may not always be up to par. If something goes wrong with your account or you can't get the help you need, it can be frustrating.
Nutmeg requires a relatively large initial investment in order to start using its services. This might be too much for some people who are just starting out with investing or don't have much money to spare.
Overall, nutmeg has many advantages that make it an attractive option for those looking to invest online. Whether you're building your wealth over time or planning
Wealthify Pros and Cons
Wealthify is an online investment platform that allows users to invest in a range of pre-selected portfolios. It also offers a robo-advisor service, which provides automated investing advice based on user goals and risk tolerance.
Wealthify Pros
Wealthify offers a simple and convenient way to invest in a variety of portfolios.
The Wealthify robo-advisor service can provide helpful investing advice for users who are new to investing or who want assistance making investment decisions.
Wealthify has low fees compared to other online investment platforms.
Wealthify is a good option for beginner investors who want a simple and convenient way to invest without having to choose individual stocks or funds.
Wealthify Cons
Wealthify does not offer as much control over investments as some other online platforms. For example, users cannot choose individual stocks or funds to invest in.
Wealthify portfolios may not perform as well as other investment options over the long term.
The Wealthify robo-advisor service may not be able to provide useful advice for more experienced investors.
However, more experienced investors may find that Wealthify does not offer enough control over their investments and that other platforms may perform better over the long term.
Nutmeg or Wealthify Which is the Better Investment?
Both Nutmeg and Wealthify offer investors a great way to grow their wealth. However, there are some key differences between the two platforms that you should consider before making your decision. If you're looking for expert support and guidance in addition to Robo-investing technology, then Nutmeg is the better option for you. However, if you're looking for lower fees and a wider range of investment options, then Wealthify may be the better choice. Ultimately, the best investment platform for you will depend on your individual needs and preferences. So do your research and choose wisely!