FreeTrade Review 2022: In 2016, Freetrade came into existence. Freetrade is a platform for stock, ETF, and investment trust trading. The (FCA) Financial Conduct Authority regulates Freetrade, it's a UK-based fintech business that offers commission-free stock trading.
For a standard investing account, it offers commission-free trading, zero transaction costs, and zero platform fees. Freetrade is a UK-based startup that introduced its mobile app in 2018 for the sake of investors comfort and ease of access.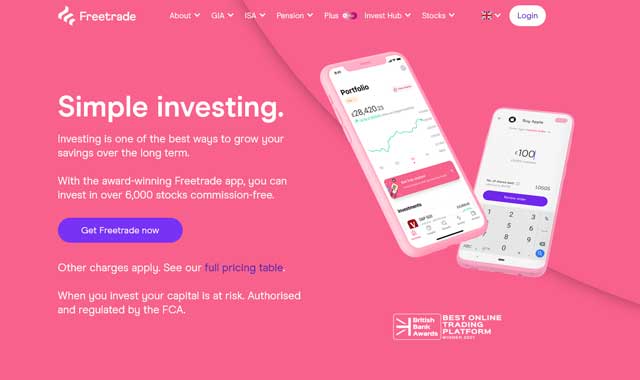 FreeTrade Review: Fees, Pros and Cons, Alternatives
Freetrade Pros and Cons
Freetrade allows users to trade stocks and ETFs for free. Opening an account is simple, fast, and completely online. The user-friendly mobile trading interface is well-designed.
You can only trade stocks and ETFs with Freetrade, and its offerings are focused to UK and the US investors. Only basic charts are available in insights section. Debit cards can only be used to make deposits; withdrawals are not possible.
How Do Freetrade Works?
Traditional DIY investment platforms might be costly when it comes to stock trading. This is due to the fact that leading firms like Hargreaves Lansdown, AJ Bell, and Interactive Investor are more focused on investment funds. Freetrade, on the other hand, is completely focused on stocks.
You may start building your own portfolio for as little as £1, and there are no costs for purchasing or selling, and trades are completed instantly. You can buy stocks and exchange-traded funds (ETFs) in UK, US and Europe listed companies. A basic trading account is free, with the exception of transaction fee and ETF charges. It will cost £3 per month to keep your shares in an ISA. For cash deposits, there are two possibilities. Use a bank transfer or a debit or credit card to make your payment.
A bank transfer may take some time to process, but a card payment is immediate, allowing you for instant trading. Freetrade funds can be transferred from the app to the same bank account without any charges. A selling transaction takes two days to settle, so cash is not available for instant withdrawal.
What are Freetrade's Charges?
The Basic account with standard features is completely free. One can buy, sell, and hold stock in FreeTrade's basic account. To receive tax-free interest and dividends, there is an option for ISA, but it comes with monthly charge of £3. When anyone is buying US stocks, the price will take into account the exchange rate of 0.45% in total amount.
Accounts for general investments are free.
ISA for stocks and shares costs £36 per year.
SIPP costs £7/mo to Plus member and it costs £9.99/mo to standard free user.
Freetrade Plus account costs £9.99/mo
Buying and selling assets are completely free.
Deposits and withdrawals are free of charge.
Is Freetrade Expensive For Me?
DIY platforms like Vanguard, Fidelity, or Hargreaves are better for portfolios under $10,000 investment due to £3 monthly ISA charge by FreeTrade. Investment goals are really important to consider while deciding about which investment platform to use? The limited array of Freetrade investment portfolios may be worth it or may be not. It all depends that whether you should save on platform expenses or any attached transaction fees or just go for another investment firm.
Is My Investment Safe with Freetrade?
The FSCS (Financial Services Compensation Scheme) would compensate you if Freetrade went out bankrupt. The FSCS will insure assets up to £85,000. For claims there is simple online submissions and its for free.
Note: If your investments lose value or a firm in which you own stock goes bankrupt, you will not be eligible for claim. Until there is a clear indication that loss is caused by financial advisor's suggestion. The advisor must also gone bankrupt in order to get eligible for claim.
How to Open a Freetrade Account
The account sign-up is simple and easy process, you will need to download FreeTrade app either on iOS or Android. Although there is a website available but it offer learning resources, reviews and community chats.
New customers signing-up for basic account with Finance and Credit Referral Link are eligible for a FREE SHARE valued up to £200* (terms appy). The FreeTrade account setup only takes only a few steps after you have the app on your phone. To activate your account, enter the verification code you receive on your email.
You are ready to trade once you have submitted your personal information such as your name, address, date of birth, and national insurance number. Users can use Apple or GooglePay to make deposits or link your favorite bank account. In the app you can find past performance, price and even search any stock or ETF from popular companies. The app also let you buy or sell from your investments, while on the other side it also helps to keep an eye on your portfolio performance.
Popular FreeTrade vs Comparisons
Freetrade vs Moneybox
Although Freetrade offers a low-cost alternative to invest in stocks, but Moneybox allows you to gain market exposure without any hard work. The Moneybox app keep check on your bills, it will then invest any change leftover in multiple products (ISA, LISA, or Saving accounts etc.) of your choice. The app links it self to your bank account and collects purchasing data from there. Moneybox LISA and ISA are free while the ISA for stocks and shares have a little cost of £1 per month. There is a 0.45% annual fee which for platform management.
Moneybox focuses funds for ISA investments rather than stocks. But when you take a look on fund charges and portfolio fees, it may become more expensive in long run. For further details MoneyBox Review can help you out.
Freetrade vs Trading 212
One of Freetrade's main competitors is Trading 212. Both platforms provide a low-cost, user-friendly solution to trade stocks and ETFs. Compared to Freetrade's 6,000 listed stocks, Trading 212 offers a wider range of 10,000 shares, from listed companies in the US, UK, and Europe. For an ISA, Freetrade charges a monthly £3, however Trading 212 ISA is free. When new users join Freetrade, they will receive a free share worth between £3 and £200*. For in-depth overview check out full 'Trading 212 review'.
Freetrade vs eToro
If looking to start trading with eToro, then a $10 deposit is minimum amount to start with. On the other hand with Freetrade the minimum investment can start from just £2. If you start investing with eToro, then you have to pay 0.5% exchange fee, along with flat $5 for each withdrawal. Although both FreeTrade and eToro do not charge any trade commission but there are some upfront fees.
What is Freetrade Plus
It is a paid plan from FreeTrade for investors wanting in-depth details and additional features. With FreeTrade+ some extra services are available including new stocks, & services, investment loss alerts, and more.
Users of Freetrade + earn 3% interest on cash every month and get free access to a stocks & shares ISA (Its paid service for standard users). The monthly cost of FreeTrade + account is £9.99.