InvestEngine review; we will cover investment cost, customer reviews, and alternatives to InvestEngine. We will also explain why they're a popular choice with beginner and passive investors. The portfolio management risk and customer support will also be a topic. This InvestEngine UK review will be useful for any beginner or veteran investor. Please make sure you read the entire article before making a decision. We hope this InvestEngine review will assist in making an informed decision.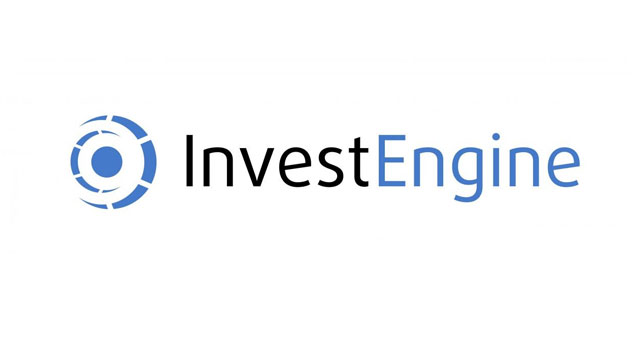 If you're an investor, you're always hunting for opportunities. Maybe you're looking for a hot stock to get in on, or perhaps you're considering investing in an ETF. But have you ever heard of InvestEngine? It's a new platform that could make it easier than ever to find and invest in winning stocks and ETFs. With InvestEngine, one can create a custom portfolio according to specific investment needs. Moreover, InvestEngine is powered by technology, so, you can trust that your investments are in efficient and secure hands.
They offer a wide range of features and benefits that makes them one of the top contenders in the industry. We will cover each aspect in this InvestEngine review.
Marriane's Findings
Best suited to long-term players, no instant buying orders execution. Pricing is low and customer service is awesome. Leading investment controls for both automation and customization.
Create a portfolio without investing
Zero annual fees on DIY portfolio
Funds re-balancing option
More than 500 ETFs
Low fees on the managed portfolio
In-depth details on managed portfolio proposal
DIY portfolio lacks automatic suggestions
The minimum investment threshold is £100
Flat pricing for both big and small investors
No pick and choose allows for specific shares and stocks
No instant buying orders
What is InvestEngine
InvestEngine has been designed to make investing straightforward for investors. The platform offers one-stop shopping so there's no need for other names! Not only do they offer better rates than traditional investment managers but have better ability in research & advice. They know how to best invest your portfolio – it'll be like having an expert on hand every time.
To be successful, you need to know what type of investment platform is right for your needs. The first kind allows investors to build their portfolio. Such services can be found at large companies like Hargreaves Lansdown and Interactive Investor. Moreover, they involve dealing directly with firms that offer shares on exchange-traded funds (ETFs) or unit trusts. Beside to above all investors get access through different mutual fund providers. You will get a selection from both developed markets and emerging economies. Such platforms with custom options are Do-It-Yourself investment firms.
Next, Robo-advice services come for novice investors. They offer low-cost, diversified managed portfolios at your fingertips. Some popular names are Nutmeg, Moneyfarm, and Wealthify for auto investments. But these 'Robo-advisors' don't do what you think they have to do. They make recommendations based on their range of available investment opportunities. Moreover, it provide advice to invest in stocks that fit the criteria set out by the client. At this point things starts to get tricky when investing without human intervention.
Get £20 for Free on SignUp
Signup with PayKey and enjoy the £20 bonus in your account for free on first portfolio and minimum of £100 investment.
What InvestEngine Offers
InvestEngine offers an interesting blend of managed and DIY portfolios. The 13 ETFs it creates offer low-cost exposure to various markets, much like Nutmeg or Moneyfarm. InvestEngine also allows you to take more of an active approach by picking your own investments too! This unique feature makes them stand out from other Robo advisor platforms. As they provide both types of service in one package – without any extra fees or commissions involved along the way like Hargreaves Lansdown. While the competition may be tough, InvestEngine is taking ways to distinguish itself. It offers innovative products at lower costs than other companies. Additionally, there are more investment choices for investors!
How Does InvestEngine Work?
Invest Engine UK offers two different options for managing your investments. You can either build or manage them yourself or let the company experts take care of them on your behalf. It all depends upon what kind suits you best and for what term you want to invest!
InvestEngine offers a free and easy-to-use DIY portfolio service. If you want to build your investments without paying fees or commissions you can consider it. For the managed Portfolio option, you pay 0.25% per year which is not much compared with other platforms in the UK. We will discuss fees and pricing below in detail.

InvestEngine offers a comprehensive range of ETFs from across the globe. It also provides access to some of the world's leading asset managers. With InvestEngine, you can invest in a variety and different mix of asset classes. Which include equities, bonds, fixed-income commodities, and more.
InvestEngine Portfolios Review – Comprehensive Analysis
InvestEngine Managed Portfolio
It has two different portfolio options for investors:
Growth portfolios
Income portfolios
The 10 growth options are designed with varying degrees of risk. While the income Portfolio contains more stable investments. It provides dependable returns over time without any major swings in value up or down. They're great if you want steady income but don't need high inflation rates as we do!
When you register with InvestEngine you can see how your fund will perform. Right before you invest any single Pound from you hard earned savings. Moreover, there is no obligation to invest any money. It's worth registering for a quick look at their suggested investing strategy!
The future growth charts are an excellent way to see what your money could look like in five years' time. With each portfolio, you can also view how much of each asset was invested into stocks or bonds. This gives users insight into where their investments may go next!
Since they launched last year. The only drawback is that we don't have access to past performance data from InvestEngine. I'm happy to say that InvesEngine's portfolios show ETF fund's mix. This info enables anyone to look at their past performance if that interests you.
InvestEngine UK offers the most comprehensive portfolio management service among anyother Robo-advice company. With managed portfolios one can generate regular income. Other companies such as Nutmeg still don't offer this feature and it's what sets them apart from their competition.
InvestEngine's income portfolios could provide you with an annual return of 1.5%, 2.7%, or 4%. This is dependent on how the markets play at any given time. Probably, one may not get these returns every year. Other big firms like Hargreaves Lansdown do offer managed income funds, which can give good gains if invested correctly.
InvestEngine UK Review: Deep Diving Managed Portfolios
An annual fee of 0.45% is charged by Hargreaves Lansdown. This is approx twice of InvestEngine's 0.25%, which comes out to be about half the price in comparison. The expense ratio you pay for your investments will never change. Regardless if it goes through an online or physical broker. That's because they all follow standard practices!
You can choose the frequency of payments you want. If needed they'll even send them into your bank account each month! Even one can choose how often those checks are coming out. Before investing in a portfolio you get an estimated monthly income. So there are not any surprises as this income finally show up at home or work account.
The InvestEngine platform offers an interesting selection of ETFs with various asset mixes to choose from. The highest yield portfolio has 75% bonds and 25% equities. This could be considered more balanced compared to other options available. But it relies upon equities for income generation in future decades as well! Hopefully, this will change soon enough so we can see what happens when people are given higher equity allocations. Moreover, their long-term success rate vary depending upon whether you're trying to produce sustainable growth versus returns?
InvestEngine is one of the most affordable investments in a managed portfolio around. They manage your funds and charge 0.25%. I'll be looking at their fees in more detail later on, but for now, lower fees make them such an attractive option!
InvestEngine UK DIY Portfolio
Customers can build and manage portfolios from a set of 150+ ETFs. InvestEngine DIY Platform is the best option if you want variety and customization in your investments. Even paying too much for them. The DIY user interface may be basic – but there isn't even an account fee. What makes this platform great (besides the limited ETF choice) is how cheap it can get when building out these DIY pools. The list of alternatives DIY platforms includes some big names like UBS, L&G, and Vanguard. But there are also less-known firms such as iSHARES or Xtrackers.
---
InvestEngine UK Account Types
InvestEngine offers three types of accounts.
Personal accounts
Stock and Shares ISA
Business Accounts.
In both personal and ISAs you will further see two different branches do-it-yourself and managed. Let's see which accounts suit your needs best, below are the top features for each account type.
1. InvestEngine Stocks and Shares ISA
If anyone wants to start investing in stocks and shares. Then the InvestEngine Stocks and Shares ISA could be a great option for you. With no limit on how much you can invest and a wide range of investment options available. It's a flexible way to invest your savings. Invest in an ISA to save on taxes. Moreover, investments are tax-free, there's no CGT involved and you can invest up to £20K per year!
InvestEngine ISA Features:
– Investment diversification in variety of stocks and shares
– Minimum starting investment from £1.
– Choose from a range of managed or DIY portfolios
– Enjoy zero exit fees, and no charges when you transfer existing ISAs
– Higher returns probability
– Zero ISA account fees for DIY Portfolio & 0.25% per year for managed portfolio
– Access to powerful tools
– Zero dealing & setup charges
2. InvestEngine Personal Account
Starting investment threshold is £100, and all the investment income is taxable. The personal account is a branch of the general investment account. The taxable income slab starts from £12,300 which means below this limit you are tax-free.
3. InvestEngine Business Account
Businesses having extra money and looking for investment opportunities can use this account. The tax on profits depends on the business type. In my opinion, investing your cash in hand to earn a bit more is always best decision.
---
What is InvestEngine's Fee Structure?
InvestEngine offers tax-free ISAs, flexible Personal Accounts, and Business Accounts. Its streamlined platform makes investing convenient while offering low costs and fees. InvestEngine offers both professional management and do-it-yourself options. You can choose an account type according to ROI goals and past experiences. Here with the InvestEngine review, we will cover all related costs.
The DIY accounts do not have any annual or ongoing fees. However, you have to pay ETF fees and market spread charges.
Managed portfolio costs changes with income or growth portfolio basis.
For income investors, the annual fee is 0.25%, the ETF charge is 0.27%, and the ETF spread is 0.09%.
For growth portfolio investors, the annual fee is 0.25%, the ETF charge is 0.17% and the ETF spread is 0.04%.
Cost Type
Managed income portfolios
Managed growth portfolios
DIY portfolios
Annual fee
0.25%
0.25%
Free
Market spread
0.07% per annum
0.07% per annum
Applicable but Unknown
ETF charge
0.25% Per annum
0.15% per annum
Between 0.05%-0.75%
Avg 0.24%
Withdrawal fee
£0
£0
£0
Dealer fee
£0
£0
£0
ISA fee
£0
£0
£0
Setup fee
£0
£0
£0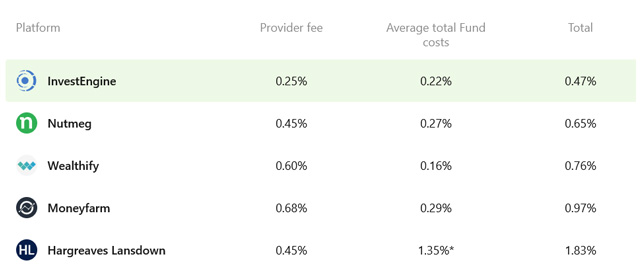 ---
InvestEngine Review: Key Features
If you're looking for a way to invest your money, InvestEngine might be the right option. With its free online service, you can invest in any investment collection and available options. Above all, you can build your portfolio from scratch. One can also use an investment manager that will do the heavy lifting for you.
InvestEngine offers several key features
ISAs are general investment accounts (but no pension). Enjoy tax-free investment through ISAs, but pension support is not available currently.
Business Accounts aims to focus on big firms looking to invest money in hand to get extra income.
The investment platform offers 13 low-cost diversified managed ETF portfolios. 10 of which are growth while 3 are income portfolio
Mobile App is available to manage investments on the move for both iOS and Android users.
A Wide Range of ETFs covers big names including Vanguard, iShares, and more. There are approx 150 ETFs available in total.
Free DIY Portfolios – They only charge 0.25% annually. Every other thing is free including dealing & platform fees or set-up charges.
Automatic re-balancing – This feature is related to the fund ratio in different asset investments. Like if you 40:60 split between bonds and equities. When a request to add or withdraw is initiated it will maintain same allocation. You can also do this manually when you feel the need for it.
---
InvestEngine Mobile App & Desktop Review
Here with the InvestEngine review, we will take a look at its apps. InvestEngine UK mobile app works well on all types of smartphones. The app offers most of the same functionality as the desktop website have. This mobile platform is sleek and easy to use and even has bio-metric authentication. This protect your account and identity. To make trades and access your trading account, internet connection is must. The mobile platform also supports multiple portfolios. This way you can manage and monitor your investments while on the go.
The website is designed well, and the app is easy to use. InvestEngine not only offers a calculator to help you figure out how your savings might grow based on factors including investments, monthly budget, and level of risk. The system shows info on the percentage of funds allocation in each asset type.
Are There any Risks with InvestEngine
InvestEngine is a platform that matches investors with a portfolio of exchange-traded funds. Creating an account on InvestEngine is free. Moreover, you can experiment with your portfolio and the platform's infrastructure before you make a real investment. After creating an account, you'll give more details for anti-money laundering purposes. This includes your age, income, and the value of money you are planning to invest.
As with any other investment the rules are also the same here. InvestEngine do not certify that you will receive positive returns. It all depends on market conditions and many other external factors. An investment can go down rather than growing up there is always a chance which one have to mitigate. While ending up with less than the initial investment and also paying in fees. Continue below with InvestEngine Review.
---
Invest Engine Customer Service Review
When it comes to customer support and service, InvestEngine definitely stands out. You can get access to their support from Monday – Friday during business hours 9 am to 5 pm. You can use their helpline, chat, or email to connect with them. They help you to invest your money in the way that suits you best. The mailing address is support@investengine.com or you can also use the message section on the portal.
Moreover, they have an FAQs section on the portal to help with common questions about using the platform. FAQs also cover investment options, and the working of each investment portfolio.
---
Review: Is It Safe & Good to Use InvestEngine?
InvestEngine is a great platform for investing in the way that suits you. Its great value services can help you build wealth over the long term. Its focus is on building long-term wealth, not short-term gains. You can get started today! To discover more, complete the form. The information in this Invest Engine Review will help anyone to make decision whether to use InvestEngine or not.
InvestEngine UK is regulated by the Financial Conduct Authority (FCA). FSCS protection is avaialble for InvestEngine. Investors can claim up to £85,000 in compensation for losses if it fails. In short, if InvestEngine files for bankruptcy, you will get a cover by the FSCS.
---
How to Open InvestEngine UK Account
Opening an InvestEngine account is easy and can be done online or over the phone. In this InvestEngine Review, we will learn to open an account. It will ask some personal information from you. Enter your name, mail ID, phone number and so on. To sign-in to InvestEngine, first you'll make a new InvestEngine user and password.
A few questions will appear that you will answer if you opt for managed portfolio. They will ask about investment goals, your budget, acceptable risks, and the term of the investment. In addition, the rest of the things will be on an auto algorithm that will follow your answers and select the best suitable investments for you. The investment is managed by InvestEngine experts to maximize ROI.
If you opt for a DIY portfolio then first you have to top up your account with your investment funds. Then you can start investing by creating your portfolio. This option is best if you know what is your strategy and needs to achieve your goals.
Alternatives to InvestEngine UK
If you have been looking for a Robo-advisor or managed portfolio service. You may be looking for some alternative investment sites after reading this InvestEngine Review. Although there are many Robo-advisors on the market. But VanGuard, Nutmeg, Wealtify, and MoneyFarm are also some options. They all offer regular off-the-shelf portfolios like InvestEngine.
On the other side, if you want to opt for a DIY investment portfolios. Then some big names include Interactive Investor, and Hargreaves Lansdown. They are best because you can get access to junior ISAs, Lifetime ISAs, trading accounts, and pensions as well.
---
InvestEngine Review 2023: Promotion
£25 Referral Offer
The InvestEngine £25 Referral Offer is only open to Referrers who are residents of the United Kingdom and are aged 18 years or over. Moreover, InvestEngine UK employees, their immediate family members, and anyone else connected with the InvestEngine £25 Referral Offer are not eligible to participate.
Referrers can participate in the InvestEngine £25 Referral Offer. For that one can use the InvestEngine referral link. Once the Referee has signed up to InvestEngine, they must have to deposit £100 into their InvestEngine account within 30 days. After that Referrer will receive a £25 bonus in the InvestEngine portfolio. Both the referrer and referee are bound to be invested for 12 months to be eligible for the bonus. You can claim up to 25 referrals during the Promotional Period.
Please read these Terms carefully before referring a Referee. By participating in this InvestEngine £25 Referral Offer, you agree to be bound by these Terms.
InvestEngine Video Review 2023