Investment platforms offer free shares and stocks to attract new customers. They have so many options to choose from that they can entice investors just like with a free stock offer. Free shares are a great way for you to start investing. Many platforms offer free trading which makes them a great learning tools.
You can make some extra money by signing up for trading apps and getting free shares. Here's a list with seven different platforms to earn either a share or cash in exchange for registering. I will also share what you must do and how I did it when I tried them.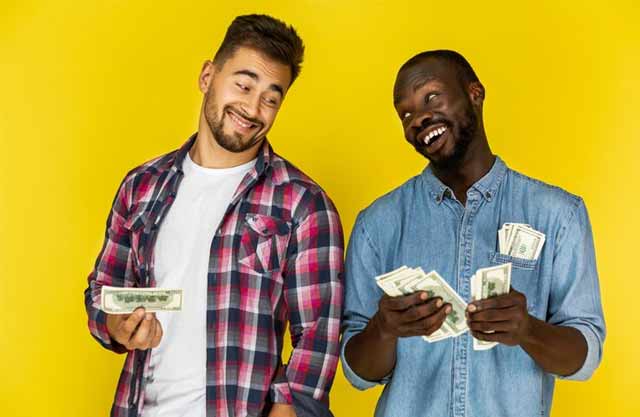 7 Platforms to Earn Free Shares and Stocks in UK
How to Earn Free Stocks in UK
The competition is growing among UK investment platforms day by day. Investors have the option of choosing who to invest with. These platforms offer benefits to encourage potential investors to choose their platform. One of the most popular enticing technique is offering free stock for registering and topping-up an account. This will usually return a set of stocks & up to a fix amounts.
Here's a list of my top UK stock trading platforms offering free stock on registration. You don't have to sign up with each platform to earn upto £600 free stock. Then, you can spend some time on each platform and choose which one is best for you.
First Take a Look on Free Stock and Share Offers
FreeTrade: Up to £200 Shares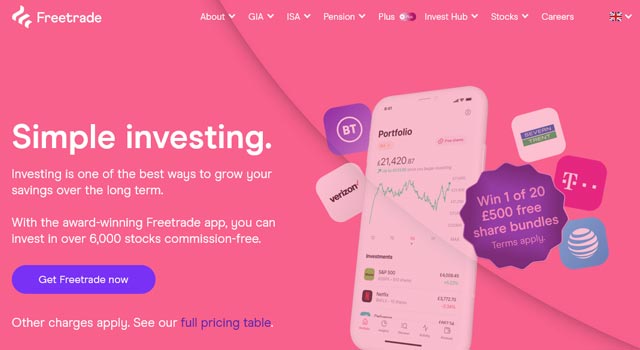 A popular stock trading app in UK is Freetrade. It's worth looking at, as it offers US stocks and has introduced fractional shares recently. Although Freetrade does not offer the same number of stocks in the US in comparison to Trading 212 or Stake. As the name implies, Freetrade focuses heavily on stock trading that is free from commissions.
Register using the link below to fund your account with a minimum amount of deposit to receive a random stock free up to £200.
Register for Freetrade and Get Your Free Stock
STAKE: Get up to £100 Shares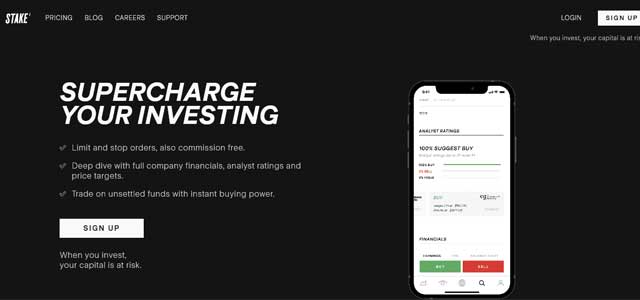 Stake was founded in Australia, and is now focusing on the UK. It is an online broker that focus primarily in US stocks. It makes it easy for UK residents to trade US shares and stocks but at a fraction of costs. You can choose from over 7,000+ US ETFs or stocks. They have more investment options than any other platform in UK.
Register to Stake, then top-up within 24hrs with minimum deposit. Earn a free stock worth up to £100.
Register to Get Your Free Stock
Orca: Get up to £200 Free Stocks
Orca is new to investment platform market. It offers commission-free trading, just like the other platforms. They recently introduced stocks from the US and UK.
How to Get Free Shares with Orca? Register for an Orca account. You will receive a £200 stock free of charge if you top-up with minimum deposit threshold.
Register to Orca and Get Your Free Stock
Trading212: Get up to £100 Free Shares
Trading 212, aims mainly on commission-free trades. It offers a low entry threshold, as you can start with £1. Trading 212 offers a wide range of stocks from the US, just like Stake. They don't offer many US stocks. However, they do have a good options of UK ETFs.
Register with Trading212 and then top-up with a minimum amount of deposit to receive a random stock worth up to £100.
Register to Trade 212 and Get Your Free Stock
InvestEngine: Get £25 Cash
InvestEngine offers both a managed and DIY service that allows you to build a portfolio of ETFs. The platform is easy to use and charges low platform fees. DIY portfolios have a 0.25% platform fee, while Managed portfolios have a zero platform fee. This makes it an excellent place for both beginners and experienced investors. InvestEngine is currently offering a sign-up offer. This means that if you register with referal link below, and deposit £100 investment in your portfolio, you will receive an additional £25 bonus.
InvestEngine £25 Free. There are no stocks to be won free as this is an ETF-only platform. However, there is a £25 bonus. Click the link to sign up for InvestEngine. After you have invested at least £100, you can complete registration to claim bonus of £25.
Register to InvestEngine & Get £25
Circa5000: Get £5 Free
Circa5000, previously known as Tickr, is an investment app that is different. They focuses on 'impact investing'. (Impact investing is a type of investments that have a positive impact on the environment and provide a return on your investment. The Circa5000 approach is straightforward, with many investment options available. There are no stocks that you can choose from. It's worth looking if impact investing matters to you or you want to be socially responsible. This is best for you if you're new to investing, or want a simple setup and grow platform.
Circa5000: £5 Bonus. Register with Circa5000 by clicking the link below. You will receive a £5 and a tree for your account.
Register to Circa5000 and get £5 free (Upto £100 Offer)
Coinbase: Get £7 Free Bitcoin
You must still be a newbie to Bitcoin if you haven't heard about it in the past few years. It was first released in 2009, and became a popular cryptocurrency in 2020. Bitcoin has seen highs of $57k in recent months and attracted Elon Musk for investment. It is impossible to predict where this wild ride will lead. Coinbase makes it easy to join the fun. This is the platform that I use to make small crypto investments and it is very user-friendly. Coinbase will give you £10 extra if you sign up through referral link and purchase £70 worth of Bitcoin ($100).
Earn £7 Bitcoin Free – Use below link to sign up for Coinbase and purchase £70 worth of Bitcoin ($100). You will also receive £7 in Bitcoin.
Purchase $100 of BTC and Get $10
Things to Remember when Registering for Free Stock?
Free money is not something that anyone will complain about. However, it is important to fully understand and consider all conditions before signing up for any platform that offers free stock and shares.
There's nothing wrong with signing up on different platforms and getting free shares or stock. You can try each platform to find the best one for you. It is not a good idea to sign up for all platforms in the hopes of receiving instant free stock. Each investing platform has its terms and condition which you have to follow to become eligible for bonus. It's important to keep in mind that investing is a long-term effort. It's important to find the right platform for you, especially if you are new to investing.
We have many articles on investing, including reviews of various investment platforms. You can continue further about investment topics on this site.