The world of investing is constantly changing. With the best investment apps, UK investors can now diversify their investment. You can even do it on the move with the best investment apps in UK. Stock investment apps have seen a huge boom recently, if you didn't know. Many people are investing without even having a computer. This is how things are going forward.
Apps are now more accessible than ever. Is investing right for app interfaces? Many people would agree in many cases. This is why I have compiled a list of the top UK investing apps for 2022. There are many investment apps and platforms out there, but only a handful worth to have a look.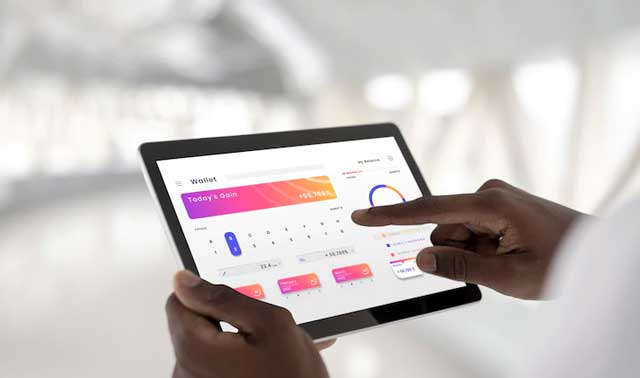 Best Investment Apps in UK – At a Glance
Here are some of the top investment apps for the UK in 2022.
Moneyfarm – The best app for passive investors looking for a straightforward, no-nonsense approach.
Wealthify – The best app to choose from portfolios from scratch with support.
Nutmeg – Best app with strong track records, low fees and handful features.
Moneybox – The best app to get start with a passive investment approach.
Stake – The best app to trade United States stocks without commissions.
Trading 212 – An app for investors looking to trade in UK, US, and European stocks.
Freetrade – The best app for novice stock traders looking to get started.
Before sticking with any of these investment apps, read full details below on each platform.
Is it Safe to use These Investment Apps?
Open banking, which involves sharing financial information with third parties, has raised safety concerns. There are safeguards in place and your data is often heavily encrypted and not personally identifiable.
A third party will never have access to your login details, or any data that you have not released. Companies that wish to use open banking must also be approved by and regulated FCA. Even if you have opted out of open banking, or decided to not use it, you need to be careful for phishing and scams.
Investment apps in the UK should be registered and authorized by the FCA. This should mean that customer investment is kept apart from company's to ensure your money is safe in case they fail. You will get the a bit higher protection if you invest through a UK bank. If you have concerns about safety, it is a good idea to verify the status of the company with the FCA before starting investments.
To ensure your money is secure, check if the app is covered by the FSCS. Standard membership is required for all UK banks and building societies. If they are covered by FSCS, funds of up to £85,000 per individual and institutions can be refunded in the event of bankruptcy.
Best Investment Apps in UK – Robo Options 2022
Moneyfarm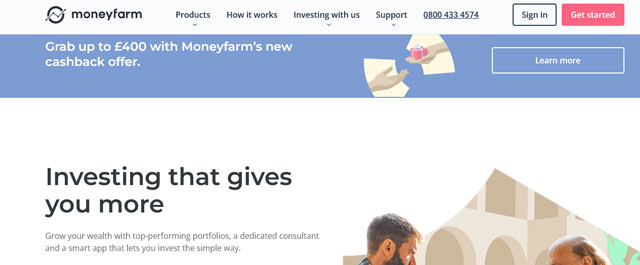 Let's start with Moneyfarm. Moneyfarm might not have been as well-known as the other apps, but it's definitely worth a look. The app is easy to use and intuitive enough to attract both novice and experienced investors. You can also choose a starter portfolio that will be tailored to your understanding. Moneyfarm seems to be taking risk with knowledge and attitude very seriously, which is a positive thing.
As you choose, you can either invest through ISA, pension or a general investment account. For any amount between £500 and £10,000, the platform management fee is 0.75%. The fee then starts to decrease based on how much you invest.
Moneyfarm is an user friendly platform to start with. It is a great choice for novice or casual investors who want to get started quickly. They have a responsible approach to risk and offer fully managed portfolios, competitive fee structures, and a minimum investment of only £500.
Click here to get started with Moneyfarm
Wealthify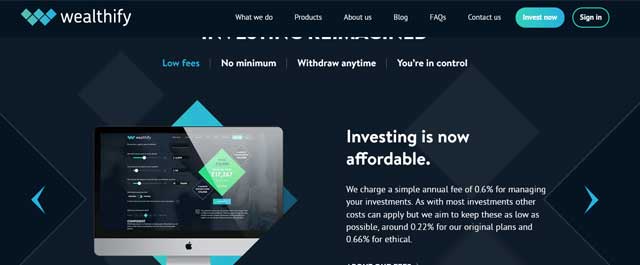 I have reviewed Wealthify more in depth and can confirm that it is quite impressive. This app is probably the best money-investment app in the UK at the moment, purely because it allows you to choose your investment options.
Wealthify allows you to take the bull by its horns. This means that you can decide how much money you would like to invest or whether you just want to jump in and start investing in a specific sector or fund. This app allows you to set goals and restrcitions, and everything can be managed from a single screen. Wealthify won't charge extra for taking your money out. This is a huge plus.
Fund fees are expected to average around 0.2% per year and a maximum of 0.7% to your annual investments. Transaction fees are something you should be aware of, at 0.7%.
People will love the bright, breezy interface and the absence of any minimum threshold requirements. If you don't know where to start, it's worth checking out.
Register to Wealthify and Get £25 Free
Nutmeg
It is, one of the many popular investment apps in UK. Nutmeg is a friendly, easy-to-use. you can opt to invest in ISAs, pensions, and general markets. It's aimed at anyone who wants to avoid the annoying platform fees. The fees are simple and low. Sign up through our link to get free for the first six months.
People will love Nutmeg for its flexibility. Nutmeg is one of the few money-investment apps that allows you to set up your portfolio based on a specific profile. You can have your portfolio managed fully, fixed or look for investments that are socially responsible. It's very likely that Nutmeg will make big waves in socially responsible investing.
Before you download the iOS or Android app, you should be aware of the requirement that you have minimum £500 in order to start. This threshold is lower for lifetime ISAs for shares and stocks, but it's quite high compared to the rest. Wealthify is worth looking at if you have less money to start. Nutmeg is free to sign up and you will not pay any fees for the first 6 months.
Moneybox
Moneybox has a lower minimum threshold than Wombat. You can start here if you have a £1 in your account. You will be given a simple platform to begin from, called tracker funds.
There are many ISAs that you can access, including junior ISAs, lifetime ISAs as well as stocks and shares. You can also invest in your retirement and other general investments.
Moneybox request a flat fee £1 per month. But that is only if you do not invest any money. Wombat is a strong competitor and you have to pay 0.45% per year for any investment.
Wombat is available on both iOS and Android, and chrages up to 0.3% in provider fees. Anyone new to investing will find the interface easy to use. The app lets you manage your money and won't care if you don't have a lot of capital.
Top Best DIY Investment Apps UK 2022
These investment apps are a low-cost entry point for anyone who wants to create their own stock and shares portfolio. This app is ideal for advanced investors or those who prefer a more hands-on approach to investing.
Stake
Stake began in Australia and is now concentrating its efforts in the United Kingdom. It is an online broker that specifically deals in US stocks. It makes it easy for UK residents to trade US shares and stocks at a cheap fee. They offer overall 3,800 US stocks and ETFs.
Stake offers 100% commission-free trading. This even comes in free account. Fractional shares are another great feature of stake. Even if your initial investment is small, you can still buy a piece of Amazon, Apple, or Google.
You can also get a free stock if you sign-up with referral link below. You only need to top-up within 24hrs of signing up. Then, you'll get a bonus randomly in GoPro, Dropbox, or Nike.
Register to Stake and Get Your Free Stock
Trading 212
Trading 212, another platform that primarily aims on commission-free trades. It has a low entry threshold, as you can trade with £1. Trading 212 offers a wide range of stocks from the US, just like Stake. However, Stake have a good array of ETFs or UK stocks.
Trading 212 also offers a desktop version. You can also keep an eye your stock portfolio either on desktop or while on the move.
They also offers fractional shares. This means that even though you invest a small amount, you can still get a piece in some big players such as Amazon and Google. It is a great trading app that is easy to use for beginners.
Freetrade
Freetrade is a trading platform that focuses on no commissions. For a deeper look and to learn how you can get a free stock up to £200, Check out Freetrade review. You can set up an app with basic investment accounts for free and get simple trading. A monthly platform fee of £3 for stocks and shares ISAs is applicable. This makes it slightly less competitive, but it is still a reasonable rate considering.